Of the many great honors I've been blessed to experience in the Nation Of Islam, one in particular stands out tremendously to me. A couple years ago, I had the great privilege of hearing the testimonies of extraordinary women in the Nation of Islam (whom I greatly admire), which revolved around the life and unique sacrifices of the Honorable Minister Louis Farrakhan. Sisters Fatimah Farrakhan (Registered Nurse and daughter of Min. Farrakhan), A'ishah Muhammad (Student National M.G.T. Captain Emeritus and Student National Auditing Coordinator), Mary Alice Muhammad (Lead Chef for Min. Farrakhan) and Ava Muhammad (Attorney and Student National Spokesperson for Min. Farrakhan) were asked to approach the "witness stand".
To be extraordinary is to exceed the common degree, to be remarkable and wonderful (Webster's Dictionary). This does not mean that they are superior in importance, but that they have walked with the Hon. Minister Louis Farrakhan to the degree of witnessing his intense love, humility, suffering, sacrifice and dedication and can bear witness to the profound affect his life has had on theirs.
This special gathering was conceived by and organized by three Black men who are members of the Nation Of Islam and the F.O.I. (Fruit Of Islam); Brothers Jesse Muhammad (social media strategist for Min. Farrakhan), Rashad Muhammad (a former member of Min. Farrakhan's security team) and Willie Muhammad (Student Minister and event moderator).
The event opened with prayer and words from Brother Willie Muhammad explaining the purpose for as well as the uniqueness of these testimonies. "This is more than a panel discussion, because of who is the subject revolving around these testimonies", he stated. The who he is referring to is the Honorable Minister Louis Farrakhan!
Brother Rashad Muhammad followed by recognizing the presence of Mother Khadijah Farrakhan, wife of the Hon. Minister Louis Farrakhan. "When we talk about the Extraordinary Women we cannot go without talking about the Extraordinary one, Mother Khadijah Farrakhan", he said. "What he (Farrakhan) is offering us is God's love. Our testament is whether or not we can love one another", he continued. He closed with the following words, "When we truly understand what God has given us in the Hon. Louis Farrakhan we would understand the Reality of God. I bring these women up before you so that you may examine their hearts; we judge not but learn to be patient."
It was at that moment that Brother Willie Muhammad, the event moderator, introduced each panelist and proceeded to go right into the set of questions that were emailed by the general public as well as members of the Nation Of Islam.
One question that was posed was regarding why many people cry in the presence of the Hon. Minister Louis Farrakhan. Here are the responses of the panelists:
"When you see a man who walks the walk and talks the talk, it raises the bar so high…God raises him up. You're just in awe of what you're witnessing". – Fatimah Farrakhan.
"When I'm in his presence I am reduced to a child. It touches your heart, because of his love and mercy." – A'ishah Muhammad
"The Minister has a healing power…I've witnessed it. When I first met Min. Farrakhan I was on chemotherapy. He spoke of healing and Allah (God) giving us the power to self heal. I know that in my heart and soul this (Farrakhan) is the beloved of God and His Christ." – Ava Muhammad
"I know that there is a certain magnetic field around him. When people cry, that's what they feel. Although he is a man like anyone else, there is something special about him. For those who cry, they are feeling the Presence of Allah." – Mary Alice Muhammad
A particular question was posed to Sis. Fatimah Farrakhan regarding how seeing her father medically has tested her faith. Here is her response:
"You see a man in the grips of death like that and his words are 'Whatever Your Will is Allah!' He is so unselfish. He is in constant prayer and reflection with God! It makes me think Wow..I get choked up..he's something else."
There was a question posed to Sis. Ava Muhammad to share her experience watching Minister Farrakhan stand up for Truth. Here is her response:
"He possesses every characteristic of the Sun. He is in ultimate teaching mode. I have NEVER seen him in any other way; gracious, elegant. I have never known a more proficient lawyer than Minister Farrakhan. The difference between him and others is his heart. When he is listening to others, he is truly processing what they are saying. There is no way that this man is not guided by God! The enemy cannot calculate how to defeat him!"
A question was submitted for Sis. A'ishah Muhammad relating to the use of Dianetics. Here is her response to the critics and for those who misunderstand:
"We hear 'Dianetics' and think that it's different from the Teachings of the Hon. Elijah Muhammad, but it's not. He has not deviated, he has excelled! He is adhering 1000%!"
The following question was submitted to Sis. Mary Alice regarding how Min. Farrakhan handles his dinner guests. Here is her response:
"I've seen people come to his table who have vilified him, but when they come to his table they're treated like royalty. You have a genuine brother in this man (Min. Farrakhan). Ask Allah for patience and you will see why he does what he does. I ask myself all of the time, 'Who does this?' All I can say is what a friend we have in Jesus!"
A very interesting question was posed to the entire panel regarding why the Nation Of Islam compares Minister Farrakhan to Jesus Christ. Here are their responses:
"I don't compare him to the Lord and Saviour Jesus Christ. He IS my Lord and Saviour Jesus Christ!" – Ava Muhammad
"We're at a crossroad, we have to make a decision: What Side Do You Want to Be On? Please let this be the beginning of a new dawn and love one another as he loves us." – Mary Alice Muhammad
"There are many that he (Min. Louis Farrakhan) has taken care of that we don't know about! He gives life to the dead!" — A'ishah Muhammad
"When you think of God you think of love and His mercy. Minister Farrakhan has been the extreme example of love and mercy. I don't get into titles…let's just be found doing the work. Minister Farrakhan is an extraordinary man". – Fatimah Farrakhan
The entire event was electrifying, inspiring and a profound voice of clarity for those who were either confused about the character of the Honorable Minister Louis Farrakhan or just confirmation for what they themselves have experienced to a lesser degree.
There were moments of thunderous applauses, tears, laughter and firmness as it relates to the reality of Minister Farrakhan given through these testimonies. For those who were unfamiliar with Minister Farrakhan, they were given a very clear understanding that was unmistakable. For anyone unfamiliar or confused about his Teacher, the Honorable Elijah Muhammad, they were given insight to him as well. For those who had never heard of the name Master Fard Muhammad, these extraordinary women gave testimony to Him! For, without these Extraordinary Men, the testimonies of these Extraordinary women and many others could not exist.
Closing remarks were given by Sister Donna Farrakhan, Student Minister and daughter of the Hon. Minister Louis Farrakhan. She shared her appreciation and how inspired she was by this event. She recognized each family member of the panelists as well as the sacrifice of her own mother, Mother Khadijah Farrakhan. Sis. Donna closed with the following words, "If you submit your will to do the Will of Allah, He will begin to unwrap your gift. This is a beautiful beginning of something! Be sure to tell everyone who wasn't able to make this event NOT to miss the next one!"
Brother Ishmael Muhammad, Student National Assistant to the Honorable Minister Louis Farrakhan, also gave closing words. "Today it's so important that we can give a testimony of not only what Islam has done but of what the Hon. Minister Louis Farrakhan has done", he said. "Every one of you, and the women on this panel, Allah Himself, prepared helpers for His servant to do His (God's) work", he continued. He closed with these words, " You are predestined with Christ. You have to know that the one raised among us is an example of the life God has for us! There is something in this day…It was the women around the Prophet, Muhammad and Jesus. The Women were there to console and prepare him (Jesus) to ascend to the Father and who were there upon his return. It was the women around Prophet Muhammad; their testimonies are most cherished. Every word you shared today was food for my soul and you nurtured and strengthened my faith. Let us step up–not in words–but in DEEDS…He (Minister Farrakhan) has literally laid down his life for us all".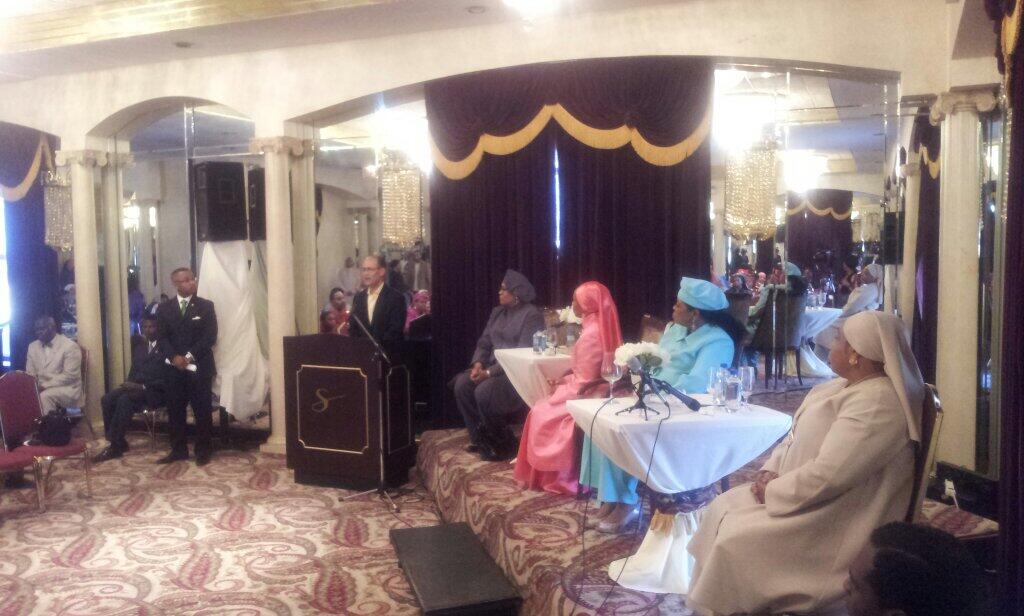 Brother Jesse Muhammad was asked to give a brief report of the response from social media. "I've been getting texts and tweets from people crying and wishing they were in these seats. The demand right now are for the DVDs to be immediately available", he said.
I thank Allah, Who Appeared in the Person of Master Fard Muhammad, for the blessing and honor to be present to witness these beautiful women offer their life experiences and interaction with the Hon. Minister Louis Farrakhan, who is so misunderstood, to offer an illuminating light of understanding.
I would like to thank each of these women for being courageous enough to open up to the questions and share candidly. I would like to thank the organizers for their vision, love and diligence in making this event a reality for all to witness. I would like to thank the Honorable Minister Louis Farrakhan for approving the event and inviting all to approach the witness stand! Allah U Akbar (God Is The Greatest)!
This event is a moment in my life that I will never forget!
Peace & Blessings,
Sister Ebony S. Muhammad, Publisher of Hurt2Healing Magazine
The Testimony of Extraordinary Women DVD will be made available in the near future. Please stay tuned for updates.
[Publisher's note: Some of the quotes and photos were provided by Brother Jesse Muhammad]