[Source: FinalCall.com]
Social media was already buzzing when the Honorable Minister Louis Farrakhan stated he would like to return to  The Breakfast Club show during his message at  Tennessee State University back in  April.
Based upon the trending storm he caused during the  first sit down with Charlamagne  Tha God, DJ Envy and  Angela  Yee, nobody expected anything less from the divinely guided and vibrant National Representative of the Most Honorable Elijah Muhammad.
The morning of the interview's airing, the digital force of the Nation of Islam known as the #FarrakhanTwitterArmy, continued its truth trafficking efforts by live tweeting the radio broadcast conversation between Minister Farrakhan and the hosts. Charlamagne, DJ Envy and  Angele also retweeted comments from listeners.
Every aspect created intense dialogue on  Twitter, Facebook and Instagram as the hashtags #TheBreakfastClub and #Farrakhan became top trending topics on  Twitter.
In unprecedented fashion, Minister Farrakhan's name trended Number One on Facebook for over 48 consecutive hours.
Many who were hearing Minister Farrakhan for the  first time tweeted their admiration for his strong stance on various hot button issues from the ongoing presidential campaign to proper dress and attire for women. Others started connecting Minister Farrakhan's warning about the weather to the latest calamities striking the nation.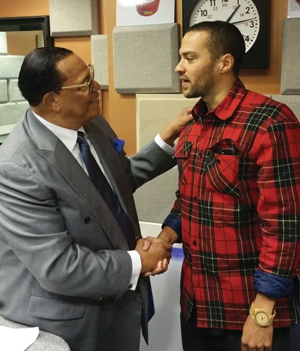 After Jesse Williams, noted actor and activist, delivered a riveting acceptance speech at the recent BET  Awards, the image of him shaking hands with Minister Farrakhan was heavily recirculated on social media.  The encounter happened at the conclusion of  The Breakfast Club interview. Mr. Williams was actually there to record an interview with radio personality Angie Martinez. However, when he spotted Minister Farrakhan through the studio glass, recording  The Breakfast Club, he stayed out in the lobby to listen to the second hour of the interview over outside speakers and waited even longer so he could meet Minister Farrakhan, a man he referred to as "a hero." He would later describe how the moment impacted him in his sit down with Ms. Martinez.
The on-going after shock
Since entering the social media realm over  five years ago, Minister Farrakhan's presence cannot be overlooked. His words, images, memes and videos have become a daily staple across social media platforms, even amongst celebrities and athletes who have millions of followers. How dangerous is this? The full video of  The Breakfast Club interview had been viewed nearly 700,000 times combined on the  YouTube channels for Power 105.1 and  The Breakfast Club. However, one was strangely removed just before reaching a half a million views. Shorter clips posted on their Facebook fan pages have generated over two million views, which includes over one million views alone of a clip regarding his words on George Zimmerman.
On Minister Farrakhan's Facebook fan page, just six short clips posted generated nearly six million views. Not to mention other clips posted and discussed on Instagram,  Twitter and Vine.  To  those who do not care much for social media or do not care to understand it, these numbers may not mean much. However, those who are in the digital trenches know the significance of this and more.
On the offense and defense
On  The Breakfast Club, Minister Farrakhan pointed out one of the key aspects that caused an estimated 800,000 to 1.5 million people to attend the Justice Or Else! gathering in Washington, D.C., last October despite no mainstream media coverage. "The media that really helped us was social media and programs like yours," he said.
The way the Nation of Islam utilizes social media has been a means by which Minister Farrakhan broke out of prison; a prison without bars made for him by Zionist-controlled mainstream media and his enemies, because he dares to speak truth.  They have muddied his image for years, making him to appear anti-everything in the book, yet his social media postings and  Twitter Army are giving people, especially the young, an opportunity to see and hear him for themselves.
No longer are people just allowed to write something online without getting a rapid response from the Farrakhan  Twitter  Army. Baltimore activist Kwame Rose had to learn the hard way after writing a column for Abernathy magazine titled, "On Louis Farrakhan and Rape." He made a shallow attempt to take Minister Farrakhan's words from  The Breakfast Club out of context and charge him with victim blaming and giving men "a pass" when it comes to rape. Immediately, articles of defense of Minister Farrakhan by  Anisah Muhammad (Montgomery), Fudia Muhammad (Austin), Shareefah Muhammad (Houston) and LaShonda Muhammad (Atlanta) went viral.  A  YouTube video response from Student Minister Robert L. Muhammad of  Austin started spreading and then a two-hour live Twitter chat was hosted by Ebony S. Muhammad (Houston) on June 2 as women in the Nation of Islam further defended Minister Farrakhan's stance on women against Mr. Rose's attacks. In the midst of it happening the same night as Game 1 of the NBA  Finals, the chat's hashtag #CoveredGirl was a top trending topic along with #Farrakhan.
Do yourself a favor and follow this beautiful man on Twitter (@LouisFarrakhan), Instagram (@LouisFarrakhan) and Facebook (OfficialMinisterFarrakhan).  Please join us in continuing to spread  The Breakfast Club interview.
Tweet that and keep getting full!